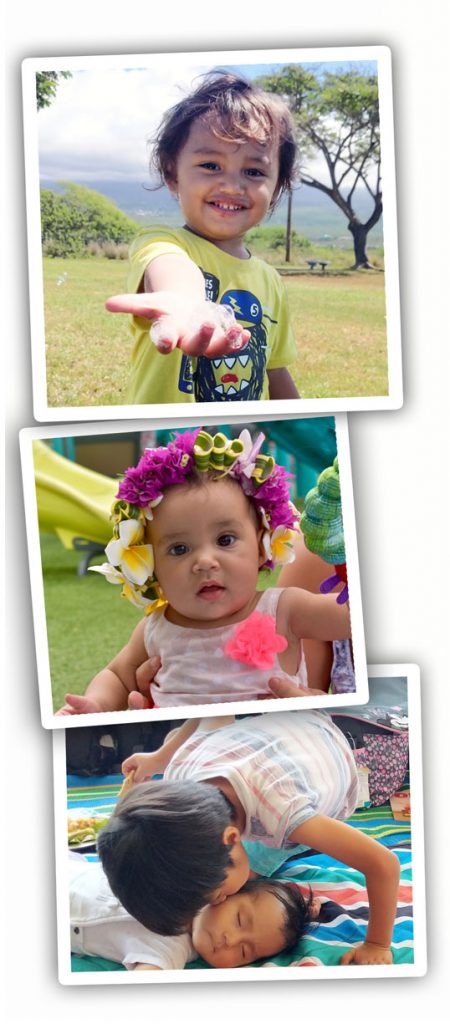 The Family Support Hawaii Early Head Start program (EHS) provides home-visiting and center-based services to pregnant women and children from birth to three and their families who live in Ka'u, Kona, and North Hawaii. We offer child development, family development, health, nutrition, and mental wellness services for families enrolled. Activities include home visits, socialization groups, parent-to-parent support, developmental screenings and assessments, education about health, safety, and nutrition, and therapeutic support for those with special needs. Parent Committees and the EHS Policy Council are two unique opportunities for families to become involved in decision-making for the program. The program creates and supports collaborative relationships with community partners that are responsive to children and family needs and family goals.
Every year in the spring, the program holds a Health and Safety Day to support family engagement in healthy practices and connections to community partners. Families have the opportunity to meet and connect with a variety of community partners, have health screenings for themselves and their children, participate in a music and movement class, assemble an emergency preparedness kit, get a Keiki Identification Card, and eat a delicious and healthy lunch.
In addition to engaging families, EHS provides our children a number of learning center activities, including music and movement, preparing a funny face snack at the WIC booth, and dramatic play with healthy food items.
We want to thank our community partners for their participation in our Annual Health and Safety Day:
WIC -nutrition information
West Hawaii Community Health Center-Keiki Dental/Hawaii SMILES project- dental screenings
West Hawaii Community Health Center- health screenings and information
Neighborhood Place of Kona- community resource information
Family Support Hawaii Early Intervention Services- services for children with special needs
PATCH- information on child care and early childhood education training
Parents and Children Together Head Start- Head Start preschool
Hawaii Police Department –
Keiki ID
Family Support Hawaii Newborn Enhanced Support Team (NEST) – breastfeeding and newborn attachment
Jiggle Bums- music and movement
Stress-Free Souls- mental health and wellness
The program is dedicated to providing services to support parents and help families move toward self-sufficiency. In the past year, one of our EHS families had a goal to buy a house. With support and partnership along the way, the family was able to meet this goal. Working closely with community partners to increase family well-being through family health, safety, and economic stability is something that we strive for each day in our Early Head Start program. We are proud to work in partnership with other community agencies and programs to best support postive outcomes for children and families.