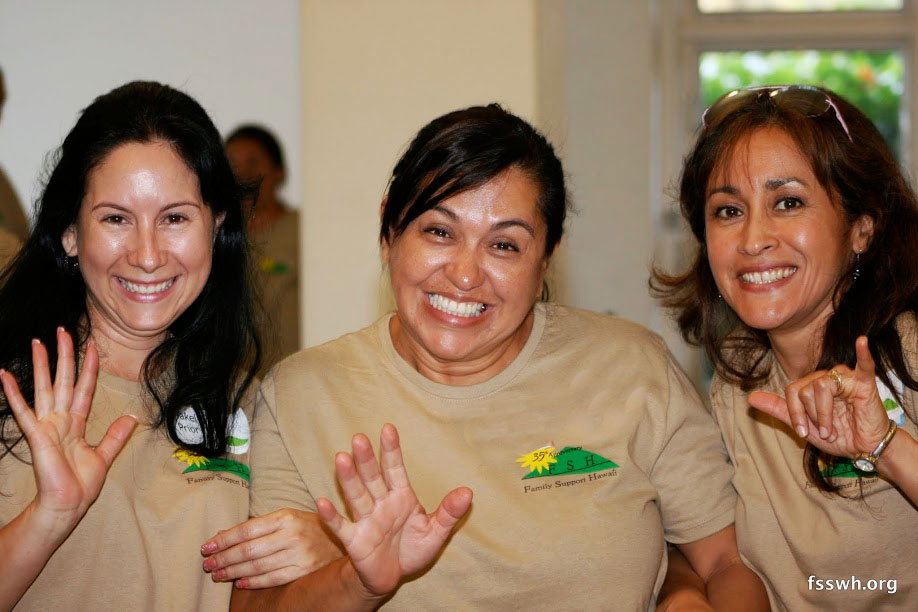 Notice to the Public that FSH complies with ADA and instructions to the public on how to file a discrimination complaint: Administration item #3. Click here for the full disclaimer.
---
Early Head Start Home Visitor (Kona)
Posted 05-01-2018
List the Essential Job Duties:  Works as a partner with families and children from birth to three years of age, including expectant families and families with children with special needs. The Home Visitor will be responsible for planning an individualized program which meets the child's intellectual, physical, emotional, and social needs.  The Home Visitor will be responsible for supporting families in becoming their child's first teacher, identifying family resources and needs; furnishing information to families about available community resources;  and conducting child development screenings and assessments .  This position requires the ability to multi-task and have computer and office skills, including completing accurate data entry.
List the Job Qualification Requirements:  AA Degree in Early Childhood Education or Child Development Associate (CDA) credential; knowledge and/or experience in prenatal education/childbirth education; must have a current driver's license.
List the Job Qualification Preferences:  Spanish or Marshallese speaking preferred.
Special Instructions: 30 hours a week.
E-mail resume and cover letter to HR@fsswh.org or send to HR/Family Support Hawai'i, 75-127 Lunapule Rd., Ste 11, Kailua-Kona, HI 96740
---
Lead Teacher (Full-time)
Posted 02-17-2018
Have you ever dreamed of teaching infants and toddlers in a beautiful, home-like setting?  Join us! Our Family Support Hawaii Early Head Start program is looking for a caring, responsive, and qualified individual as a Co-Teacher in our infant and toddler center for children six weeks to three years of age. The position requires attention to detail and is responsible for maintaining records for assigned children and families.  The Lead Teacher will be responsible for the planning and implementation of developmentally appropriate activities and experiences.
Qualifications:
A minimum of a CDA credential; AA or BA in Early Childhood Education, or related field preferred;
Thirty (30) hours of infant and toddler training and/or education;
One (1) year of full-time experience working in a licensed group setting with children under 36 months of age;
Must be culturally-sensitive;
Must display positive communication skills with children, families, and co-workers;
Bilingual speaking a plus!
---
Classroom Aide (18 hrs./week)
Posted 12/14/2017
Under the general supervision of the Early Head Start Center-based Supervisor, the Classroom Aide assists the Early Head Start Lead Caregivers with daily classroom routines in accordance with the Head Start Performance Standards and the Family Support Hawaii Early Head Start Policies and Procedures. Duties may include classroom preparation, organizing materials, assisting with meal service, interacting with children during activities, and cleaning the classroom environment.
ESSENTIAL DUTIES AND FUNCTIONS:
Assist with set-up, clean-up, and presentation of classroom and outdoor activities;
Organize materials needed for classroom activities;
Store and maintain educational materials and equipment;
Assist in serving and cleaning up after lunch and snack;
Assist with child guidance during meal times;
Assist with children's naptime;
Model appropriate behavior for children;
Use developmentally appropriate communication skills;
Contribute to maintaining a healthy and safe classroom environment; and
Cleaning and sanitizing of classroom each day.
---
Occupational Therapist (30 hrs.)
Posted 10/16/2017
Come join our team in a very rewarding position assisting a family and their child to reach their fullest potential. Provides clinical evaluations, assessments, consultations, and supports families of children birth-three years of age who are at risk for developmental disabilities or have developmental disabilities. As a member of our transdisciplinary team; this person will work closely with our team, families, and other agency providers to coach and implement strategies and interventions.
This position is approximately 30 hours per week with full benefits for employees*
Requires home visits throughout North Hawaii
Requires a current TB and State of Hawaii OT License
*Option to sub-contract with agency
---
Early Head Start Family Advocate (Ka'u – 18 Hours / Week)
Do you enjoy working with infants, toddlers, and families? If so, Family Support Hawaii has a great opportunity for you! Our Early Head Start program is seeking a talented, multi-faceted, and responsible individual to fill the role of Family Advocate. Family Advocates are responsible for a myriad of duties within our Early Head Start program including, but not limited to:
The recruitment of families eligible for Early Head Start services
Describing the program accurately to potential applicants and assisting families to complete the application process
Data entry
Maintaining consistent communication with program applicants and referred individuals
Ensuring and establishing an effective transition into the Early Head Start program
Providing transportation to enrolled families to program activities, and medical, dental, and social services appointments, and assisting with these appointments
Providing child care at program activities
Providing direct and supportive intervention to assist families in crisis
Conducting and maintaining vehicle maintenance schedules, inspections, and logs
Other duties as assigned
A high school diploma or equivalent is required. Applicants must be willing to work towards the attainment of a degree in Early Childhood Education, and must have a current Hawaii driver's license and clean driving abstract.  Applicants must also have the ability to operate computers efficiently, have data entry skills, and possess a basic knowledge of and skill with MS Office Suite and database software.  You must own a cell phone to qualify for this position.
---
Early Head Start Health Manager (Kailua-Kona)
Compensation: DOE – Benefits Included with 20+hours weekly
employment type: part-timeWe are looking for someone to join our team! Responsibilities to include, but not limited to coordination, implementation, and management of the Early Head Start program's health services component. Under the general supervision of the Early Head Start Director, the Health Manager is responsible for health data tracking and monitoring; preparing timely reports; supporting program staff through the coordination and conducting of staff and parent trainings; reviewing and revising of program's policies and procedures related to health, safety, and nutrition; providing perinatal support to staff and families, and building and maintaining relationships with community health care providers.Job Qualification Requirements: Bachelors Degree in a health-related field and experience working in a health or nutrition setting.Job Qualification Preferences: Spanish or Marshallese-speaking preferred; experience working with children/families with special needs.
---
Physical Therapist (West Hawaii)
compensation: Based upon experience
employment type: part-time
Essential Job Duties: Is responsible for providing clinical evaluation, assessment, consultation, and treatment to children birth to three years of age who are developmentally delayed or at risk for developmental delay for the Child Development Program. Is a member of a multidisciplinary team consisting of an occupational therapist, speech pathologist, special educator, social worker and a program manager. This team works together using transdisciplinary methodology to plan, implement, evaluate and determine appropriate strategies and interventions incorporating the following developmental areas: self-help, fine motor, gross motor, cognitive, speech-language-hearing, social-emotional to maximize a child's potential.
Qualification Requirements: Skills/Knowledge: Experience with pediatric evaluation, assessment, therapy and documentation. Ability to work as a member of a transdisciplinary team. Excellent communication skills both verbal and written. Excellent knowledge of computers, hardware, software and internet access. Education/Training: B.S., M.S., or DPT in Physical Therapy with degree from an accredited program. Training in typical Early Childhood Development.
Comments
comments