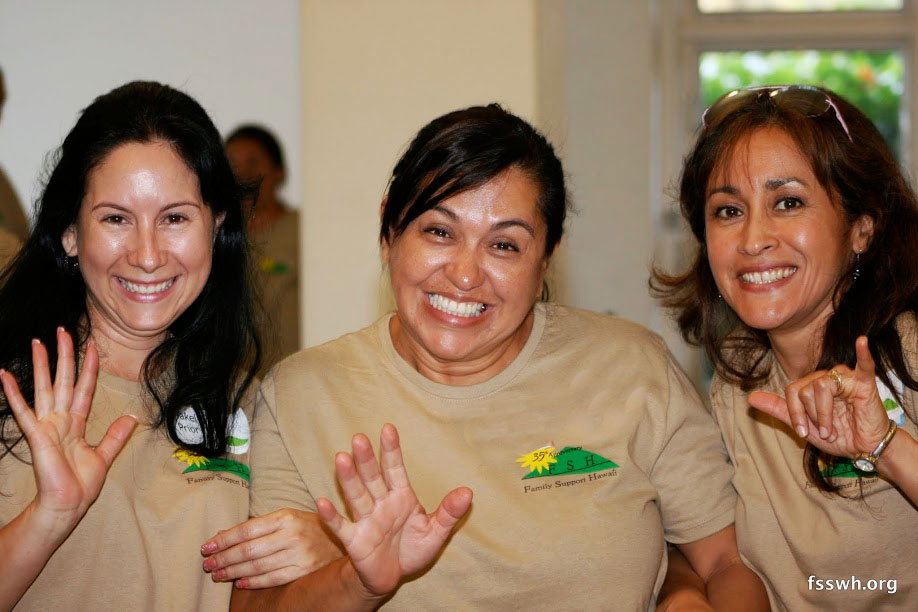 Notice to the Public that FSH complies with ADA and instructions to the public on how to file a discrimination complaint: Administration item #3. Click here for the full disclaimer.
---
Early Head Start Classroom Aide (Kealakekua)
Family Support Hawaii is looking for a Classroom Aide to join our team at the Greenwell Family Development Center in Kealakekua.   This is a part time position, requiring 18 hours per week at $12.65 per hour.
Job Duties to include, but not limited to assisting Early Head Start staff with daily classroom routines, classroom preparation, organizing materials, assisting with meal service, and interacting with children during activities. The Classroom Aide will model appropriate behavior for children, use developmentally appropriate communication skills, and contribute to the maintaining a health and safe classroom environment.
Requirements: high school diploma or GED.  Preference will be given to those with a Child Development Associate degree or coursework and those with experience working with infants and toddlers, and/or Spanish speaking.
---
Early Head Start Health Manager (Kailua-Kona)
compensation: DOE – Benefits Included with 20+hours weekly
employment type: part-timeWe are looking for someone to join our team! Responsibilities to include, but not limited to coordination, implementation, and management of the Early Head Start program's health services component. Under the general supervision of the Early Head Start Director, the Health Manager is responsible for health data tracking and monitoring; preparing timely reports; supporting program staff through the coordination and conducting of staff and parent trainings; reviewing and revising of program's policies and procedures related to health, safety, and nutrition; providing perinatal support to staff and families, and building and maintaining relationships with community health care providers.Job Qualification Requirements: Bachelors Degree in a health-related field and experience working in a health or nutrition setting.

Job Qualification Preferences: Spanish or Marshallese-speaking preferred; experience working with children/families with special needs.
---
Infant and Toddler Lead Teacher (Kealakekua)
This position is located at Greenwell Center in Kealakekua and hours are generally 7:30-3:30, Monday through Friday.
Provides instructional and training activities to support and provide an educational environment for working or in-school parents and their children. Responsible for providing children with a variety of experiences and opportunities that allow them to develop curiosity, initiative, problem-solving skills and creativity. Responsible for maintaining a safe, clean and enriching environment for infants and toddlers. This classroom has up to 6 infants and toddlers and two Lead Teachers at all times.
Job Qualifications: BA in Early Childhood Education, 24 months experience working with children under 36 months of age in a licensed child care facility, 12 approved Early Childhood Credits, and 30 hours coursework in Infant/Toddler development. Canoes Registry at PATCH required. Other education and experience may be substituted for BA.
email resume and cover letter to this ad or send to HR/Family Support Hawaii, 75-127 Lunapule Rd., Suite 11, Kailua-Kona, HI 96740.
---
Physical Therapist (West Hawaii)
compensation: Based upon experience
employment type: part-time
Essential Job Duties: Is responsible for providing clinical evaluation, assessment, consultation, and treatment to children birth to three years of age who are developmentally delayed or at risk for developmental delay for the Child Development Program. Is a member of a multidisciplinary team consisting of an occupational therapist, speech pathologist, special educator, social worker and a program manager. This team works together using transdisciplinary methodology to plan, implement, evaluate and determine appropriate strategies and interventions incorporating the following developmental areas: self-help, fine motor, gross motor, cognitive, speech-language-hearing, social-emotional to maximize a child's potential.
Qualification Requirements: Skills/Knowledge: Experience with pediatric evaluation, assessment, therapy and documentation. Ability to work as a member of a transdisciplinary team. Excellent communication skills both verbal and written. Excellent knowledge of computers, hardware, software and internet access. Education/Training: B.S., M.S., or DPT in Physical Therapy with degree from an accredited program. Training in typical Early Childhood Development.
Comments
comments