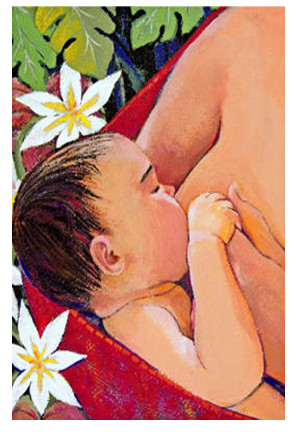 What is Newborn Enhanced Support Team (NEST)
NEST offers FREE support to families with newborns.  We assist with breastfeeding, understanding your baby, finding community resources, and postpartum recovery:
Help finding community resources
Early identification of family needs
Breastfeeding encouragement & support
Understanding newborn development
Assistance with breastfeeding challenges
Guidance for pumping & storing milk
Support when returning to work
Handling mood swings, "baby blues,"  or postpartum depression
Board-Certified Lactation Consultants available to help with feeding concerns
Home or office visits at no cost
Referrals to other programs
Phone consultation available 7 days/week
Newborn gift package with information
Assistance enrolling in Parents as Teachers, Early Head Start, HIPPY, and other  home visiting programs
Benefits of Breastfeeding
Benefits to Mom
Helps the body recover from pregnancy
Faster weight loss after pregnancy
Reduces postpartum depression
Decreases risk of breast cancer, ovarian cancer, osteoporosis, and diabetes
Enhances bond with baby
Benefits to Baby
Fewer allergies, asthma, & eczema
Fewer infections & hospitalizations
Breast milk is easier to digest
Higher I.Q
Develops a special bond & security
Other Benefits
Saves money-no formula or bottles to buy
Better for the environment
Less work, saves times
Always the right temperature
Breast milk adjusts to what baby needs
Beginning to Breastfeed
Make sure baby is latched on properly.  A good latch is:
Comfortable-no hurting or pinching.
Baby's chest is against your body and baby doesn't need to turn his or her head to feed.
When baby is positioned correctly, baby's mouth will be filled with breast.
Little or no areola should be showing, depending on size of areola and size of baby's mouth.  If areola is showing, you will see more above your baby's lip and less below.
The tongue is cupped under the breast, although you might not see it.
You will hear and/or see baby swallow.  A pause in their breathing may be a sign of swallowing.
Baby's lips turn out, like fish lips, not in.
Baby's chin touches your breast.
If you have difficulty understanding your baby's feeding cues, or have concerns about breastfeeding, please don't hesitate to give us a call.  We are more than happy to assist you and your baby!
First Foods
First Foods is a culturally-based nutrition promotion program that aims to transform family food choices in our island communities.  First Foods supports a return to more sustainable eating patterns by focusing on infant feeding practices and honoring food traditions that once emphasized breastfeeding and the age-appropriate introduction of locally-grown and minimally-processed foods.  In modern island life, a baby may not taste anything produced locally until well after her first birthday, yet she will have consumed over $2,000 of processed, packaged foods and artificial milk imported from outside the state.
The First Foods approach capitalizes upon cultural strengths that emphasize healthy fresh foods for infants that, like breastfeeding, help to prevent childhood obesity and build eating habits that support sustainability and food security.  Concrete support that encourages mothers to successfully breastfeeding is fundamental to First Foods.  When mothers experience this initial mastery of providing optimal nutrition for their child, they have a solid foundation for making empowered and informed food choices at each feeding milestone.
First Foods provides families with culturally-tailored and age-appropriate feeding information, increases access to traditional foods, and helps to restore community knowledge of traditional food production.
Other Resources
Contact Info
Newborn Enhanced Support Team is a Family Support Hawai'i Project in collaboration with Kona Community Hospital, WIC and State of Hawaii Department of Health. Email:  NEST@familysupporthawaii.org. Phone:  808-334-4127.
Mahalo to the following community partners for their ongoing support for the NEST project:  Motherart.com (cover art), Bill Healy Foundation, Lansinoh, and Project H67MC04801 of the U.S. Dept. of Health and Human Services, Health Resources and Services Administration, Maternal Child Health Bureau (Title V, Social Security Act).