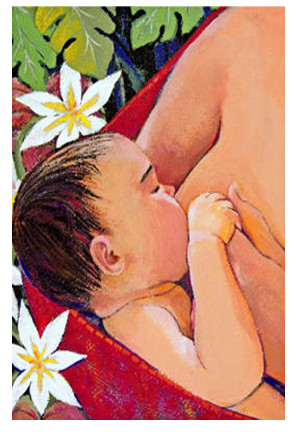 What is Newborn Enhanced Support Team (NEST)
The Newborn Enhanced Support Team (NEST) reaches out to West Hawai'i and Ka'u families when they welcome a new child.  The NEST team visits new families who give birth at Kona Community Hospital and accepts referrals for families birthing at home or in other facilities.  NEST offers families a range of support during their babies' first year of life:
Early Identification screens families to identify needs and establish connections to local service providers.
First Connections engages families in ongoing peer support through texts and phone calls throughout their infants' first year.
First Foods for Island Families supports families to feed their babies breast milk followed by other nourishing local foods beginning at six months old.
NEST provides a direct link for families in need of services through Early Head Start, Early Intervention, West Hawai'i Fatherhood Initiative, and Island Therapeutic Specialists, LLC.
Early Identification: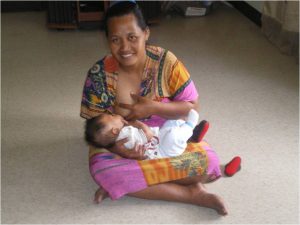 Each family at Kona Community Hospital is offered a visit with a Breastfeeding Peer Counselor/Family Resource Specialist to help with infant feeding, provide a resource packet with tools and guidance for your infant's first weeks at home, and connect parents to community resources specific to their family's needs.  During this visit, our NEST team helps families to understand newborn behavior, plan for the first weeks at home, address feeding challenges, and identify resources to support the entire family through the transition of welcoming a new family member.
---
First Connections:
Families in West Hawai'i and Ka'u are invited to enroll  in First Connections to participate in ongoing text support with a Peer Counselor who offers tips, encouragement, and problem-solving throughout pregnancy and each baby's first year of life.  For any challenges and questions beyond the scope of the Peer Counselor, families are connected directly with our Board Certified Lactation Consultants, Prenatal Specialist, or Maternal Child Health Specialist.
---
First Foods for Island Families: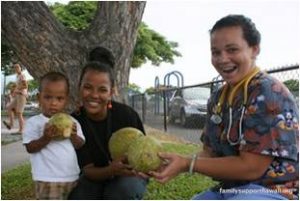 Our First Foods Initiative connects families with the knowledge and support to honor island traditions and feed our babies from the land and seas of Hawai'i.  Beginning with mother's milk and extending to the first complementary foods offered to older babies, First Foods focuses on abundant, nutritious and locally available foods to assure that our keiki begin life with a solid nourishing foundation and our families and communities have access to sustainable thriving local food systems.
---
Island Therapeutic Specialists, LLC: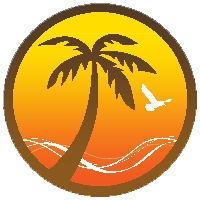 NEST and First Foods participants can arrange a Lactation Visit with an IBCLC (Internationally Board Certified Lactation Consultant) through our clinical specialty program, Island Therapeutic Specialists, LLC.  (Though the Affordable Care Act mandates insurance coverage for lactation services and supplies with no co-pay in most instances, not all insurance plans designate Island Therapeutic Specialists as a covered provider.)
---
Other Resources
---
Contact Info
Newborn Enhanced Support Team is a Family Support Hawai'i Project in collaboration with Kona Community Hospital, WIC and State of Hawaii Department of Health. Email:  NEST@familysupporthawaii.org. Phone:  808-376-2369.
---
Mahalo
Mahalo to the following community partners for their support for the NEST Project:
Family Support Hawaii's Early Head Start
Laurence H. Dorcy Hawaiian Foundation
Mother-art.com (cover art)